Choosing a Wedding Playlist
Of course we're always going to say that good food and drinks are what really make a wedding, but we know that it's really impossible to oversimplify things like that. There are so many elements that go into making a wedding special, and we love helping brides and grooms plan them all. Choosing vendors that will be able to perfectly reflect the style and tone of your dream wedding is important. Having good music and choosing the right DJ is
essential. Then comes the fun part – choosing your wedding playlist. Of course, you can let the DJ have free reign to choose songs during your reception. They really know how to read a crowd and get people out of their seats and onto the dance floor. But it can be very helpful to give the DJ a playlist that they can start from and use to get to know your personality a bit. You also need to choose your songs for the ceremony and important moments – walking down the aisle, first dances, etc. We think this is one of the most fun parts of wedding planning (right along with the tasting!), but it can also be a little daunting – so we've put together a few tips to help you out!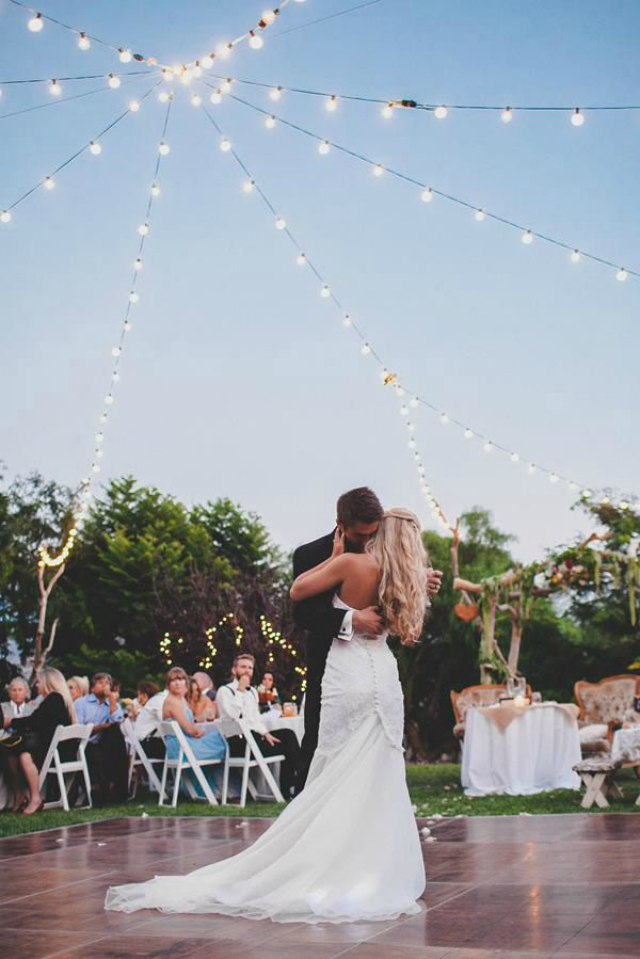 1. Consider the type of wedding you're having.
A mid-morning champagne brunch at the beach is probably going to have a totally different music requirement than a late night reception with a full bar at a swanky venue. Most people probably don't want Pitbull blasted at 11 in the morning, and by the same token most people would probably scratch their heads at a lot of mellow Jack Johnson at 11 at night.
2. Consider the crowd.
You're wedding is about YOU, but don't forget that it's also a beautiful celebration for all of your family and friends. You know whether they're big salsa dancers or not, for example, so plan accordingly. Usually weddings have a wonderful mix of younger and older guests, so mix things up and choose a variety of songs from different decades. Ask your parents for a couple of recommendations, too! The 80s are usually a pretty safe bet for everyone, and late 20-somethings will always appreciate 90s hits.
3. Don't feel tied to traditional choices.
For example, you don't have to walk down the aisle to Wagner's Bridal Chorus if you don't want to. Music is definitely one of the elements that you can get creative with, without sacrificing a nice, timeless wedding. If you still want a classic wedding march but with a twist, you could always consider hiring a musician, like a talented violinist, for the ceremony. There are plenty of symphonies out there that would make perfect processionals.
4. Start and end on a high note.
If you're doing a bridal party entrance at the start of your reception, make sure you put some thought into selecting a fun song that reflects you and your friends. If not, have something great playing as guests transition from the cocktail hour to the reception anyway. Start strong and end strong, too. By the end of the night your guest count may have dwindled a bit and you may have a few out there that are too exhausted and/or intoxicated to notice, but picking a good final song can be really special. Songs like "Last Dance" by Donna Summer are obvious choices, depending on how cheesy you want to get. Which leads us to tip #5…
5. Get a little embarrassing.
If it was extremely popular and slightly obnoxious when you were in high school or college, chances are it deserves a spot on your wedding playlist. Hey Ya, SexyBack, In Da Club, Thong Song, Livin' La Vida Loca, anything Britney Spears… yes, we're as embarrassed writing that list as you are reading it, but you just know everyone is going to secretly love it, especially after a few glasses of champagne. One hit wonders never fail, either.
Just for fun, we thought we'd share the wedding playlist of our staff member Cristina who got married last year.
-Wedding Party Processional: Waiting on a Friend – Rolling Stones
-Bride Processional: Star Wars Throne Room Theme
-Recessional: Life's a Happy Song – The Muppets Movie
-Entrance to Reception: Star Wars Augie's Great Municipal Band
-Father/Daughter Dance: The Rainow Connection – Kermit the Frog
– Mother/Son Dance: Simple Man – Lynyrd Skynyrd
-First Dance: Baby, I Love Your Way – Peter Frampton
-Last Song: Born to Run – Bruce Springsteen
*Pre-Ceremony, Cocktail Hour, & Dinner Songs:
Queen – You're My Best Friend
Jack Johnson – Better Together
Zac Brown Band – Chicken Fried
Red Hot Chili Peppers – Hard To Concentrate
*Dancing Songs:
MC Hammer – Cant Touch This
MC Hammer – 2 Legit 2 Quit
Pitbull – Don't Stop The Party
Big and Rich – Save a Horse, Ride a Cowboy
Luke Bryan – Country Girl
Nelly – Hot In Herre
Daddy Yankee – Pasarela
Fito Blanko – Pegadito Suavecito
Fito Blanko – VIP
Elvis Crespo – Suavemente
Fall Out Boy – Dance Dance
Def Leppard – Pour Some
Sugar On Me
Quiet Riot – Come On Feel The Noise
Celia Cruz – (any)
Gipsy Kings – Bamboleo
Cuco Valoy – Juliana
Henry Mendez – El Tiburón
Louis Armstrong – What A Wonderful World
Luis Enrique – Yo No Se Mañana
Need help planning your wedding, including finding the perfect DJ?
Give us a call
! It's never too early to start.