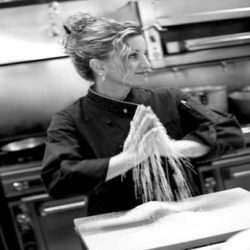 CHEF ANDREA CURTO-RANDAZZO
Italian-American raised Andrea Curto-Randazzo claims her grandmother was not only the "best cook ever", but a direct influence on her decision to pursue the culinary arts. With her strong Italian heritage coupled with her affinity for seasonal & fresh foods, her food can only be described as thoughtful with layers of flavors and a taste that are unforgettable. It's the food you wish your mother cooked with an air of culinary refinement.
Originally from Vero Beach, Florida, Andrea attended the Culinary Institute of America in Hyde Park, NY. After graduating, Andrea took up residence at New York's Tribeca Grill, under Don Pintabona.  It was while working in NY that she met Frank Randazzo, her future husband and business partner. Looking to fine tune her skills, she left Tribeca Grill to work at Aja, under Chef Gary Robbins.
In 1996, Andrea returned to Florida and accepted the position of Pastry and Sous Chef at Miami-based restaurant, The Heights, where Andrea and Frank's working paths were to cross again.  In 1998, under executive Chef Gary Robbins, she became Executive Sous Chef of Wish at The Hotel on Miami Beach.  After Robbins' departure, she was promoted to Executive Chef, where her culinary talents reached new heights, garnering her national attention and eventually the prestigious cover of Food & Wine Magazine as one of the country's Top Ten Best New Chefs in 2000. Almost simultaneously, Wish was named "Best New Restaurant" by Esquire food critic John Mariani, and received the Mobil four-star rating and a nod from The James Beard Association. The accolades continued and Andrea was featured in numerous publications including Bon Appetit, Conde Nast Traveler, Gourmet & The New Yorker.
Andrea departed from Wish with husband Frank and to open Talula-Miami Beach (2003-2010). Serving eclectic American cuisine in an environment equal parts haute cuisine and comfy neighborhood restaurant, Talula was heralded by The New York Times, Bon Appetit, Food & Wine and Gourmet.  Encompassing flavors from the Caribbean, Asia, Latin America, Italy and America, Talula's cuisine was noted for its unique blend of the Randazzos' shared influences, tastes and culinary approaches.
In October 2007, the Randazzos expanded their catering capabilities with the launch of Creative Tastes Catering, a Miami-based, full-service catering and event production company.  They also partnered with Fairchild Tropical Botanic Garden, the #1 tropical botanic garden in the world, running the Garden Café until 2017.  In early 2010, Chef Andrea Curto-Randazzo was selected as a contestant of Bravo's Top Chef, which began airing in June 2010.   In December, the husband and wife team launched their own hospitality consulting company Randazzo Management.    In 2017, Chef Andrea launched RandazzoItaliano.com, an e-commerce Meal Planning, Catering & Specialties store offering fresh prepared Italian fare using their family recipes from generations past.