Upcoming Wedding Trends
Summer is definitely not wedding season here in South Florida. Even though there are gorgeous indoor venues, most brides we meet really don't want to have to deal with the heat and humidity, not to mention the almost daily afternoon thunderstorms. For us, summer is still an exciting time, though. Aside from our corporate events and private parties, it's when we really start to hear from brides planning winter and spring weddings for the upcoming season. As we start to really dive into planning these weddings, it's a lot of fun to see the trends emerging. Here our some of our picks for the top wedding trends for the 2014-2015 South Florida wedding season:
1. Woodland Weddings
– Just because we're in Miami doesn't mean you can't have the rustic wedding you've always dreamed of. Of course, you'll have to get a little creative with your venue choice as there really aren't "woods" to speak of here, but we can always help you choose the perfect spot. Floral design is one of the most important elements for a woodland wedding, and we love combinations of ferns with wildflowers scattered throughout with wood slabs, antlers, and richly colored foliage. String lights are practically a must, as is an elegant but rustic menu heavily dictated by what's fresh, local, and seasonal. A naked cake is the perfect finishing touch.
Photo credits, clockwise from top left: 1 / 2 / 3 / 4 / 5 / 6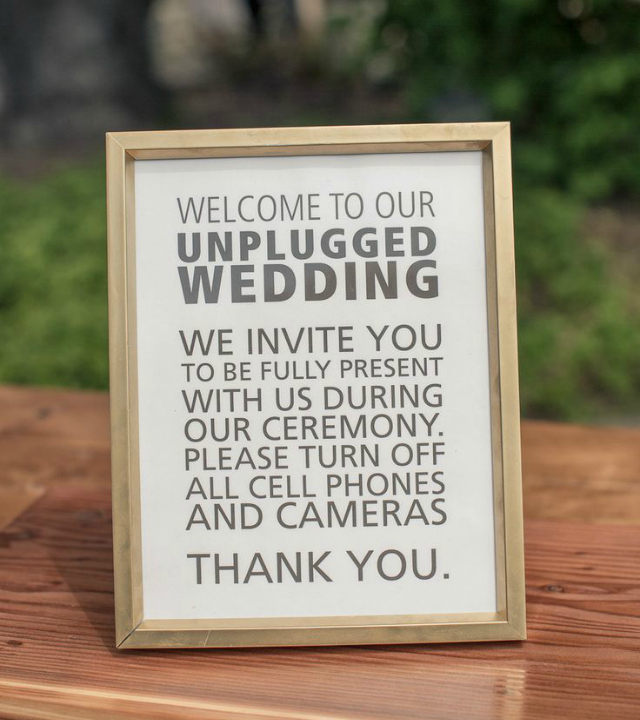 2. "Unplugged" Weddings – Yes, we love the idea of creating a unique hashtag for your event. Yes, we love the instant gratification of having photos at your fingertips right away. But don't let your guests ruin your professional photos. There are few things worse than getting your beautiful photos back after the wedding, only to find that everyone's iPhones and iPads are up in the air and blocking the view of your ceremony. More and more couples are asking the officiant to make an announcement requesting that cameras not be used during the ceremony, and it's a trend that we can really get behind. Save the social media for the reception if you can.
Photo credit: 1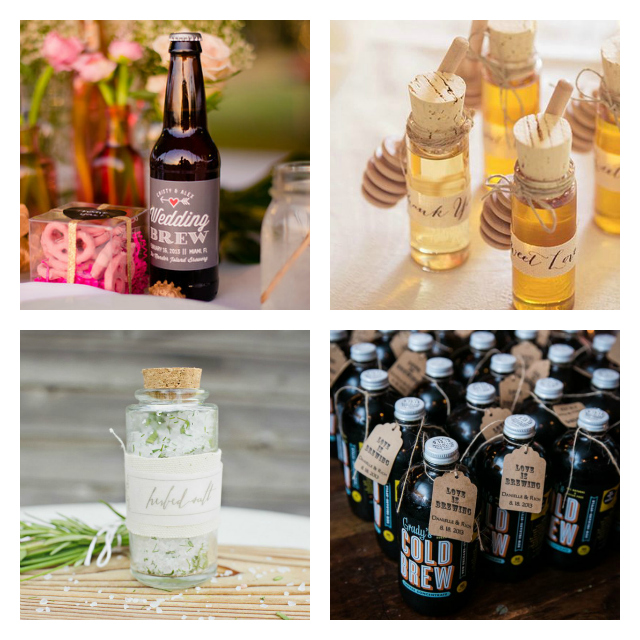 3. Meaningful Favors – Weddings can be rough financially. It's something that we definitely take to heart here at Creative Tastes, and we always strive to provide an amazing service at a fair price. When budgets are tight, there are always a few things that can be cut without sacrificing a fantastic wedding. We would never recommend skimping on the food, but things like favors and programs usually aren't missed. Let's be honest – no one is going to remember a bag of Jordan Almonds. If you do want to get favors for your guests, we love the trend of giving something that's personal or meaningful to the couple. Some of our favorite ideas include jars of local honey, bottles of cold brew concentrate for iced coffee, beers homebrewed by the couple, "hangover kits" (if you've got a youthful crowd with a sense of humor), candles handmade by the bridal party, infused salts or olive oil, etc. Get creative and pick something that's meaningful to you.
Photo credits, clockwise from top left: 1 / 2 / 3 / 4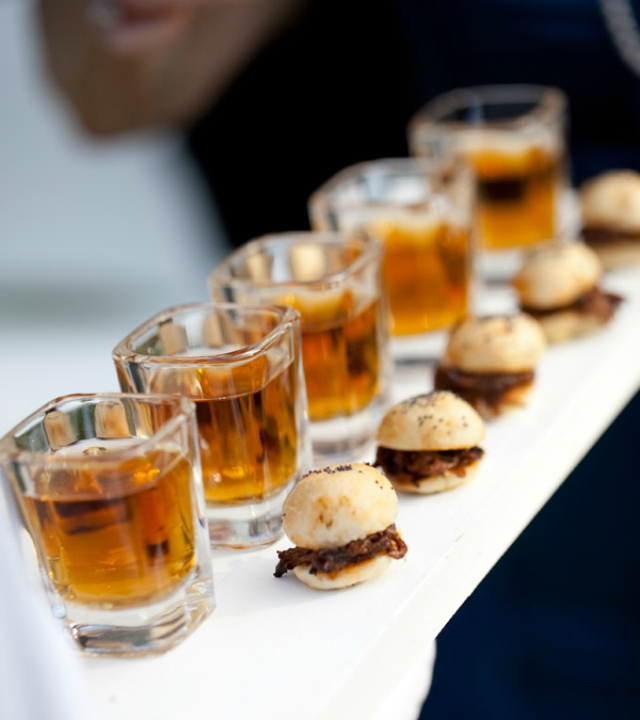 4. Hors d'Oeuvre & Drink Pairings – Great cocktail hours need two things: great food and great drinks. The trend now is to offer perfectly curated pairings of hors d'oeuvres with mini cocktails or shots. Mini paella cups with mojitos, short rib sliders with bourbon, fried oysters with Bloody Mary shots, tiny tacos with margaritas, etc. It's a great and simple way to put a fresh, fun spin on the usual cocktail hour.
Photo credit: 1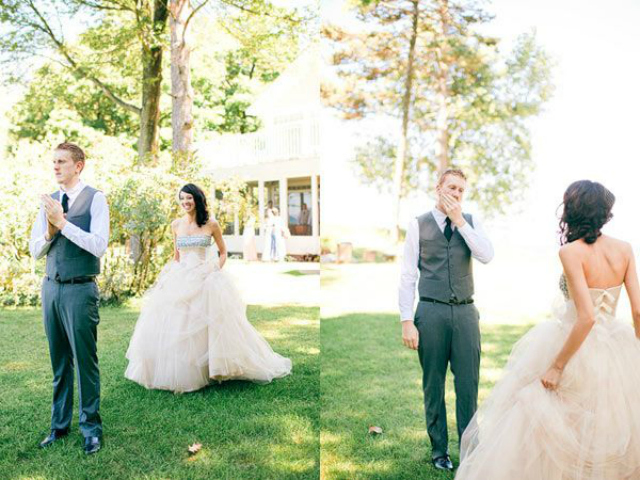 5. "First Looks" – Your cocktail hour is going to be amazing. Why miss it? Having a "First Look" isn't a brand new trend, but it's one that we really love. A lot of brides and grooms still aren't comfortable with the idea, opting to go the traditional route of not seeing each other before the wedding, and we completely respect that decision. For those that are okay with it, though, we can't recommend it enough (and most of our photographer friends would agree). Having a first look takes some of the pressure off, allows your photographer to capture some truly gorgeous and special photos, and frees up a little post-ceremony time for the bride and groom to actually be able to enjoy their cocktail hour with family and friends.
Photo credit: 1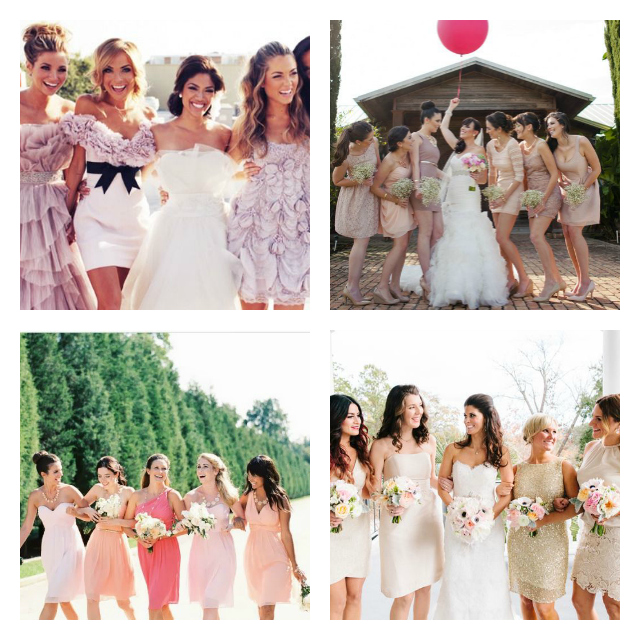 6. Mismatched Bridesmaid Dresses – We definitely don't mean to knock brides who choose to have their bridal party all wear the same dress, but there's just something that we love about the trend of mismatched dresses. As long as there are some common elements, like color or length, having your bridesmaids in different dresses can be beautiful. It can also be a lot less stressful, and we love anything that helps take the stress off of our clients.
Photo credits, clockwise from top left: 1 / 2 / 3 / 4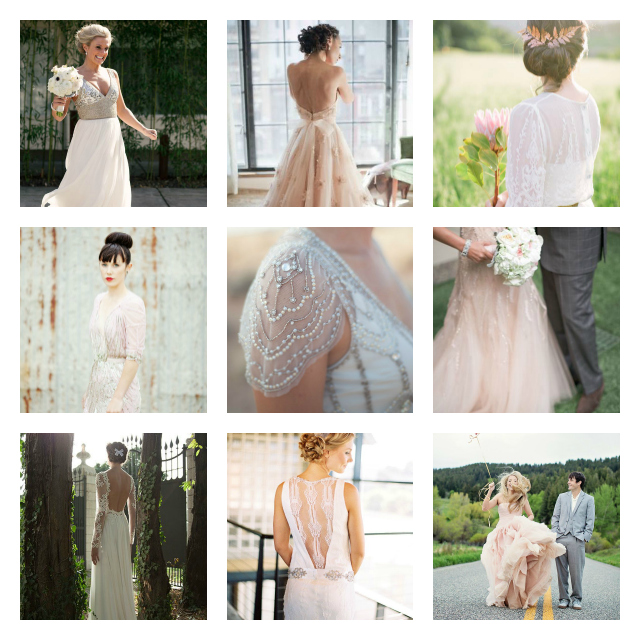 7. Unique Bridal Gowns – Backless, cut outs, blush, gold, sleeved – there are really no rules when it comes to wedding dresses this season. As long as you feel beautiful, nothing else matters.
Photo credits, left to right by row: 1 / 2 / 3 / 4 / 5 / 6 / 7 / 8 / 9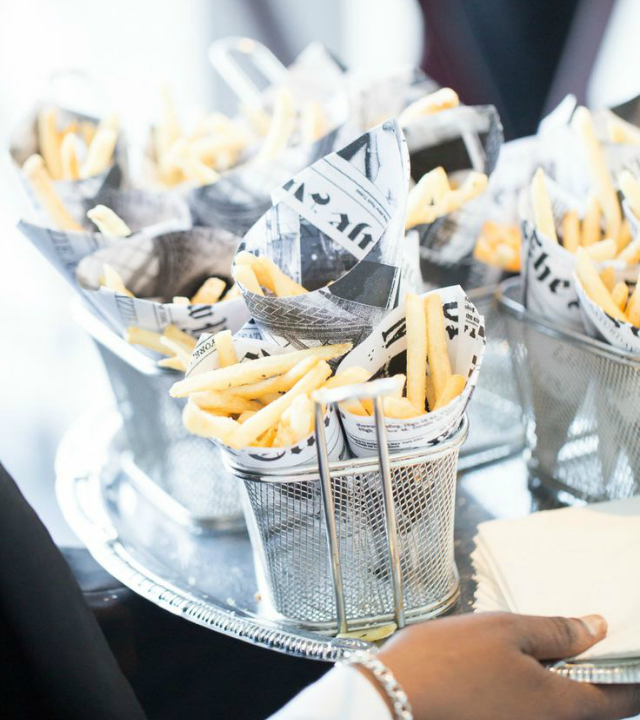 8. Late Night Snacks – Even if you want a very formal seated dinner, there's always room for a little something unexpected in your menu. We love the trend of offering "late night snacks" later on in the reception, after the drinking and dancing are in full swing. At this point, your guests probably aren't actually hungry – but they're not going to turn down a great little snack, either. We love doing upgraded fun comfort food served in stylish ways, like mini milkshakes, sliders and fries, bite-sized churros, coffee and doughnuts, and mini corn dogs. It really ends the night on a high note.
Photo credit: 1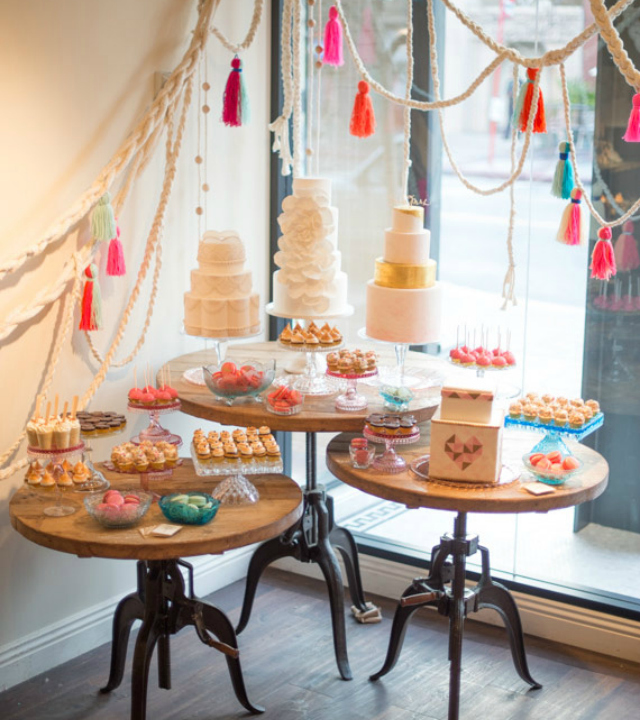 9. Desserts – It's rare that we meet with a bride these days who wants to serve only wedding cake for dessert. Sometimes the wedding cake is even done away with entirely! We love wedding cakes, but we have noticed a trend toward offering a family-style platter of sweets to each table prior to the cake, and we love the idea of creating an entire buffet of miniature desserts, cookies, and cupcakes (more modern versions of elaborate Viennese tables). Having more than one wedding cake is a really fun idea, too. It's also really great to incorporate some family favorites into the dessert course that might be unexpected at a wedding, like tres leches and flan, for example.
Photo credit: 1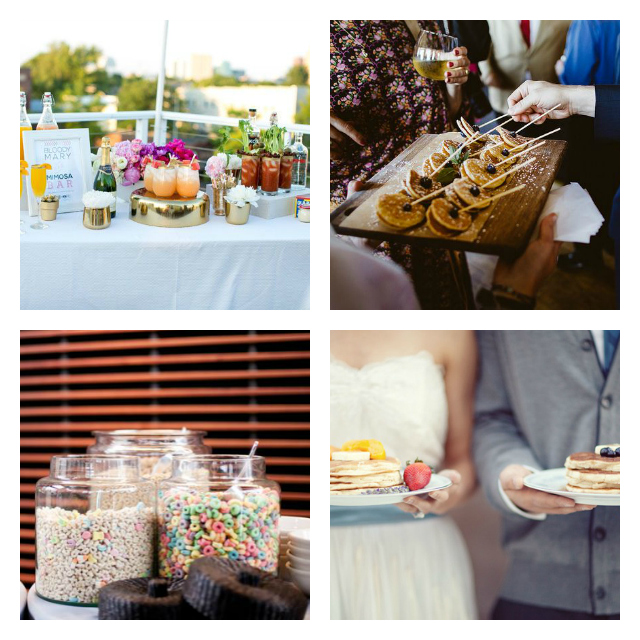 10. Brunch – Brunch weddings are definitely not for everyone, but they do have their advantages for the right couple. For a lot of reasons, daytime events are much more affordable, and you may also find it easier to secure venues that would have otherwise been booked. You'll also get to fully enjoy your wedding night, maybe even having a romantic first dinner as husband and wife, rather than rushing from the wedding in the middle of the night, completely exhausted and getting practically no sleep at all before your honeymoon flight the next morning. Brunch weddings can be so charming, and the menus can be a lot of fun. Who doesn't like brunch? We love doing omelet bars, espresso and doughnuts, mimosas, Bellini and Bloody Mary bars, French Toast stations, biscuit bars – the list goes on. If a daytime wedding isn't your style, you can always consider a "breakfast for
dinner" theme for your cocktail hour or late night snack. No one is going to turn their nose up at an adorably tiny stack of pancakes or a waffle bar with every topping imaginable.
Photo credits, clockwise from top left: 1 / 2 / 3 / 4
We'd love to hear what some of your favorite wedding trends are right now. If you're planning a wedding, please don't hesitate to give us a call. We can't wait to hear your vision for your wedding and help make it a reality.